MG E-Motion confirms new EV sports car on the way by 2020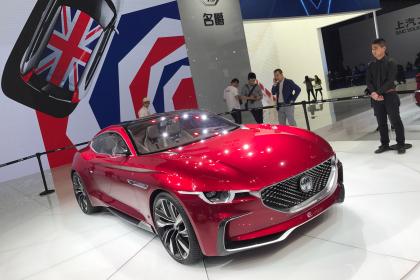 All electric MG E-Motion gets the green light and will push MG upmarket when it arrives in 2020
MG has officially unveiled its all-new E-Motion concept at the Shanghai Motor Show – a car that signals the iconic brand's return to the sports car market. Bosses have confirmed a production version of the fully electric E-Motion is in the pipeline; Auto Express understands the car could launch as early as 2020 and will start from less than £30,000.
The E-Motion is based on the new electric modular architecture from SAIC (MG's parent company). MG claims it to be capable of 0-62mph in less than four seconds and cover up to 310 miles on a single charge.
• Shanghai Motor Show 2017: latest news
As well as signaling MG's return to the sports car market, the E-Motion also previews a new design language for the brand aimed to help attract young buyers. Matrix LED headlamps are inspired by the look of the London Eye, while they also feature innovative 'covers' which slide open to give the E-Motion the trademark round headlamps from classic MG sports cars.
A retractable rear spoiler, carbon fibre rear diffuser and completely glass canopy extends the full length of the car. MG's chief designer Jingfeng also said that the E-Motion would form part of MG's plan to help push the brand more upmarket and away from its budget roots.
Proportionally, the E-Motion is slightly larger than a Toyota GT86 and like that model has a 2+2 seating arrangement. The concept also features butterfly doors and a new interpretation of the MG badge also feature. Inside, a central spine running through the car features two large digital displays and give access to the cars on board functions. There's also a digital instrument cluster.
Quilted leather trims the seats and doors, while small digital panels have been installed in the doors to replace the physical buttons used to operate the windows and adjust the door mirrors.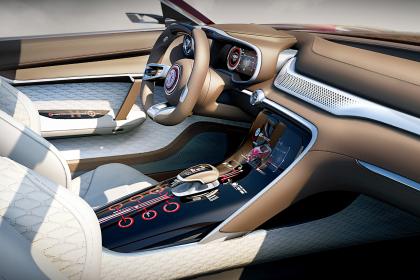 Zhang Liang, MG Product portfolio planning director, told Auto Express that the company is now ready to develop a sportscar. "This time I want to do it different. From an architecture perspective we are prepared and we have a new energy system available.
"A lot of work and research has been done. The next step is to gather audience and customer feedback," Liang added. "In another word we plan to make it; we are prepared for production."
What do you think of MG's sports car concept? Let us know in the comments…